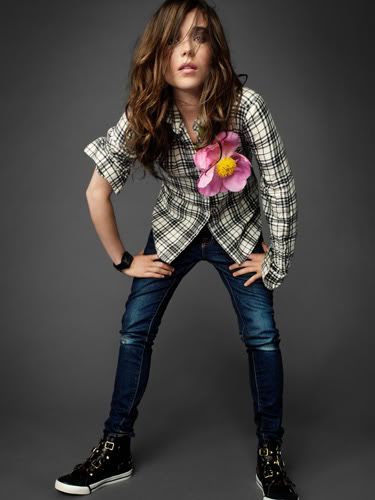 Ellen Page in Marie Claire
For those of you who do not know me all too well, as of yet ;), I am a lazy dresser. I really adore wearing dresses, tights, skirts, bows, ect ect ect. But! I often nix them for jeans and a t-shirt, mostly because I'm tired in the morning and don't feel like it. This year I made a resolution to dress nicely once a week, mostly to boost my confidence, which it has. I mean really, doesn't dressing up make everyone feel better? I think so.
Anyway! I have decided to up my resolution. From March 8th to April 8th, I will dress nicely everyday. I've decided this to 1. See if I can really do it, 2. See if it makes me feel better about myself, and 3. See if I can wear jeans a lot less regularly.
The Rules!:
1. I cannot wear just a pair of jeans a t-shirt. If I want to wear jeans and a tee, I must have something or many somethings to make it nicer. Example: a scarf. elaborate make-up w/ heels. heels. a hat perhaps.
2. I must take pictures of my outfit everday (for proof!). At the end of the week, or so, I will post the previous outfits.
3. I must enjoy myself, which might(?) be hard to do.
Anyone want to try this month of fabulous-ness with me? We can be best friends!
Hyper
Love and Turtledoves
,
Jaco
P.S. That picture made me want to grow my hair back out and start wearing smokey, brown eyeshadows. Thank you Ellen Page!