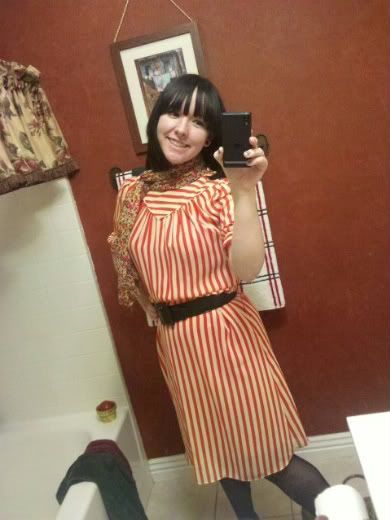 Dress: Thrifted
Tights: Target *on sale, baby!*
Shoes: Kohls (unseen)
Belt: Department Store long out of business
Dress slip (unseen): Thifted
Scarf: Burlington
Okay so I know I blogged about this dress before,
in this post
, and I am proud to say I finally wore it. I was out thrifting last week and found the cutest red dress slip. I had been looking for either a cream slip or a red slip, since the dress is very thin. So I wore this outfit to my extended family's Christmas Eve Party and had a blast! It really was so much fun.
So now the story behind the scarf that totally doesn't go with my outfit. For a gift exchange, the girls of the family decided to have a scarf exchange. I brought this one... with all the intent of winning it in the exchange. It's that game where you can take the scarf from other people and it gets locked after three tries? Yaaaa... good thing no one liked the one I bought :). Merry Christmas, am I right?
I hope everyone had a wonderful Christmas as well!
Love and Turtledoves,
Jacqueline