Recently, as some of you know, I've had a crazy obsession with red hair. Red is my favorite of all colors and I've been itching to dye it red. I've had pinkish streaks, dark burgundy hair, coppery hair, and deep red hair but never unnaturally red hair. The other problem is my hair is black right now and naturally dark brown. I also don't have the money to pay someone to lift my black out and put red in. To be honest I truly envy you blondes out there, since you don't have to bleach it to have pretty colors!
So after much pouting and searching online, I found a solution via Kaelah of
Little Chief Honey Bee
! She talks about how dearly she wanted light pink hair and knew her natural hair couldn't achieve such a color. So she turned to wigs! She's written some really interesting posts on hers, so I followed suit and found a beautiful dark red wig on Ebay.

I bought it from the seller
Wigfashion
. It was well priced and had good shipping.
So then I waited. Since my wig is from the other side of the world, I knew it would take a while. So I waited. And tried not to think about my new look. And tried not to wonder how it would look. And then, when I least expected it, my wig was home!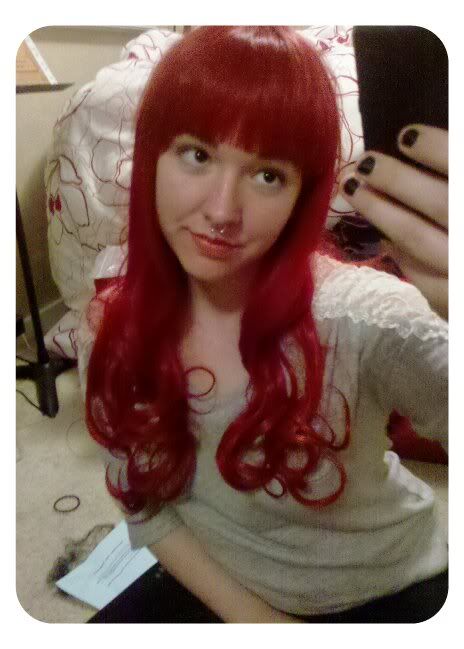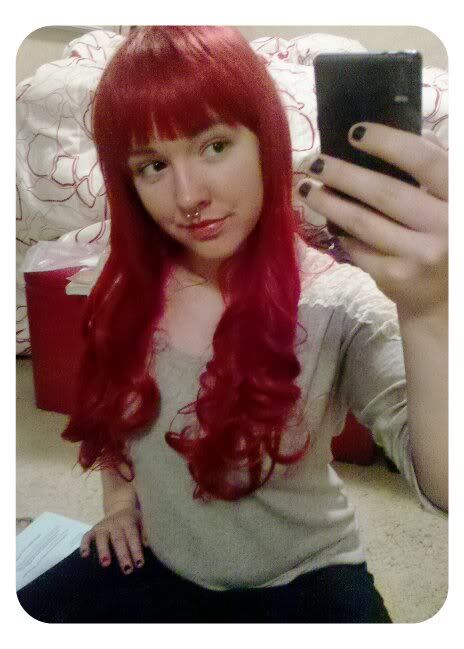 Isn't it absolutely lovely? I am so happy to report that it is super comfortable and once it's adjusted to where I want it, it looks pretty realistic. I can't wait to go out with it on! I am completely smitten. I would totally recommend this option for anyone who doesn't really want to, possibly, damage their hair.

I've also noticed I had to change my make up a little bit for the colors to look good. I filled my brows with a reddish brown instead of a black and put an orangey lipstick on that I hardly wear.

Would you ever buy a wig to change up your look?
Love and Turtledoves,
Jacqueline