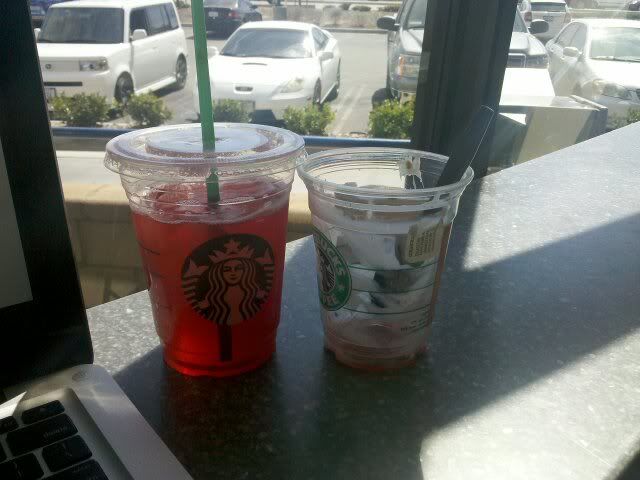 I'm sitting at a window counter at Starbucks in my hometown. I have a strawberry yogurt parfait and a passion tea lemonade by my side, keeping me alive since I pretty much haven't eaten today. I appear calm, collected, besides of my habitual foot twitch. I appear like I'm having a pleasant day, checking email and tumblr while sipping a cool drink.
Inside I am freaking out. I ate the parfait but I'm not sure how since I'm not really hungry at all. I'm dressed immaculately but I keep checking my skirt to make sure everything is perfect. I took extra time to do my make up this morning and didn't put on my dress till I had to leave so there wouldn't be any cat hair on it.
I am nervous because I will be getting my boyfriend from the airport in two hours. The boyfriend I've had a crush on for too long and still amazed he is mine this time. I'm still amazed that he adores me as much as I adore him. We were besties almost three years, but I haven't seen him in a year and a half. Last time I saw him he was bleached blonde, wearing baggy clothes he never usually wears, and he was quiet; shy. Now he's got all his black hair back, going to be dressed in his normal attire, and is
my
boyfriend.
This time he isn't a friend. He isn't just someone to spend time with for another occasion. He's here for me. He is coming here to see
me
and spend time with
me.
We've been going out for three months but today we finally get to kiss, hold hands, go on our first official date.
This time he is all mine.
Forgive me for being so cheesy, but today is really a dream come true.
Love and Turtledoves,
Jacqueline