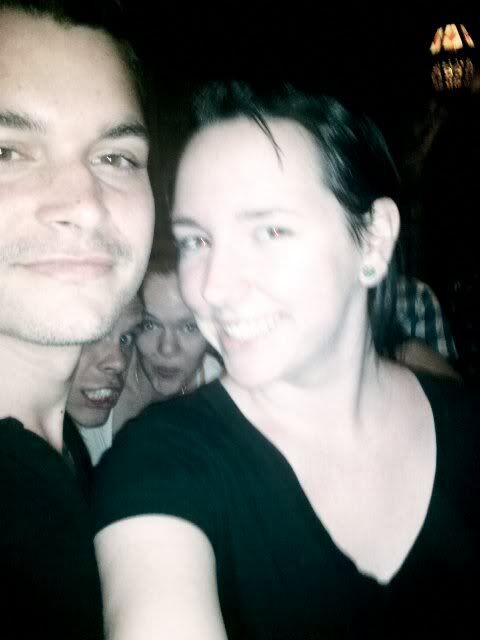 The four of us in line for Tower of Terror!
Monday came rolling around and up we got, bright and too early, around six in the morning with heads full of Disneyland! We drove to Riverside in my car to meet up with a friend of mine, Ashley, and her boyfriend, Johnny. From there we piled into her tiny four seater, William and I in back with Johnny and Ashley up front and headed down to Orange.
By the time we got there, our heads were buzzing with the promises of roller coasters, World of Color, and giddiness! My lovely Aunt Christine was kind enough to let us into the park, an action I always appreciate whole heartedly, and off we went to enjoy our day!
We rode Haunted Mansion, Buzz Lightyear ride, Matterhorn, Pirates of the Caribbean, the train(!), Thunder Mountain, and Tower of Terror! Wow I guess looking back on it we didn't ride all that many rides, but it was a really packed day. Haunted Mansion was our first ride and they actually closed it for a while, we stayed in line, and ended up getting on not that long after.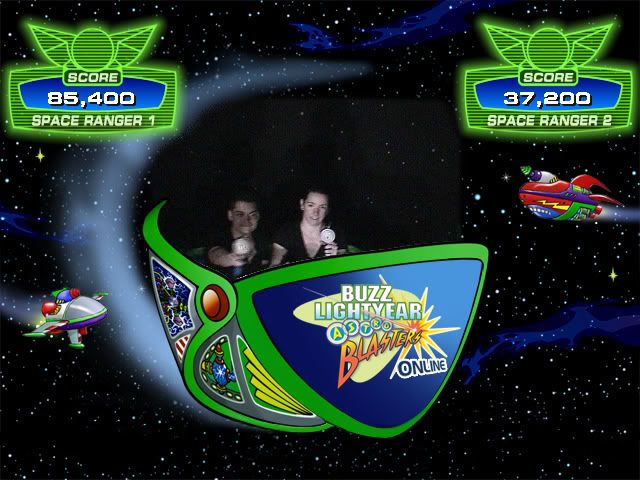 My boyfriend is pretty dang boss at the Buzz Lightyear ride.
It was one of the few times I've actually eaten at Disneyland as well. We ate at the Mexican restaurant right next to Thunder Mountain and had chicken burritos with rice and beans. We also had coffee later into the day, and Johnny and Ashely both bought corn dogs (which I have had and are very good). Once we were in California Adventure and had hit Tower of Terror (which might I add is also very rad), we made our way to this wonderful little soft serve stand on the pier. Johnny and Ashley had vanilla while I had swirled chocolate and vanilla.
After ice cream we headed to wait in line, forever, to watch the World of Color show. If any of you have yet to see the World of Color, which is California Adventure's water show at the end of the night, you are truly missing out. I've seen it twice, both with Ashley oddly enough, and would recommend watching it every time you go to the parks. I saw it last July for the first time and they have already made changes, I suspect it'll always be a little different. They truly are amazing at what they do and I think everyone should take the time to see it.
After the World of Color we decided to head back home, since it would be an hour to Ashley and Johnny's stop then another hour to my hometown for us. I slept on the drive back to Riverside with my head on William's shoulder, much to my surprise when I woke up, hehe. I sort of had forgotten where I was, but I woke up enough to drive us home without a hitch. Once I was home and Will was in his hotel we really knocked out and awaited Day 5.
Love and Turtledoves,
Jacqueline