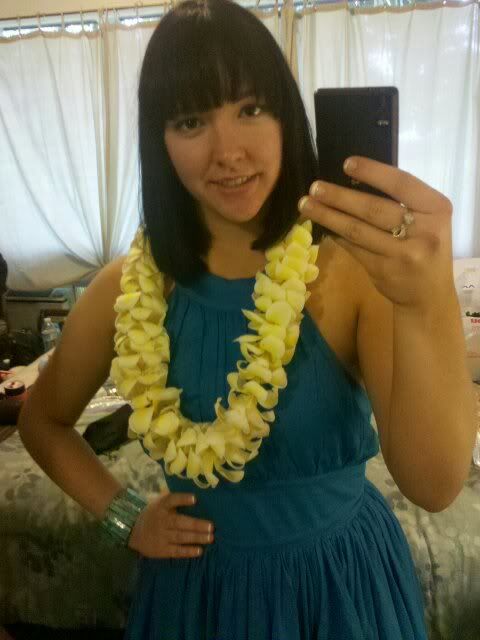 We, the bridesmaids, all had yellow shoes too!
I am happy to say I have returned safely from Hawaii, where I was with family preparing for my sister's wedding. Before we left I got a wonderful spray tan, which is now peeling off due to my dry skin, and really had never been so dark in my life! I've always been so pale that I would double take at myself in the mirror.
This is my bridesmaid dress. It's a light cotton from victoria's secret and has a reaaaallly pretty shape on any girl! We also wore yellow lays, yellow sandals, and blue bracelets. I had my nails done a french tip the day before the wedding and picked them off as soon as the pictures were taken! haha.
Boy, I tell ya a wedding is hard to prepare! Although we got to the island on Wednesday, and the wedding was Saturday, we sure were scrambling for it! We stayed in a large house, dubbed The Plantation House, along with family, friends, wide groomsmen, and of course the bride and the groom.
Over the course of the week we ate, partied, shopped, and didn't really sleep much. Although it was pretty hectic, it ended up being an absolutely beautiful wedding. The rain came down lightly during the ceremony, but it really added to the atmosphere. Kacey and Billy had a modern Hawaiin style wedding, so of course the rain is a blessing ;).
I love you Billy and Kacey, I hope your marriage is long and very happy. I'm really glad I got to be apart of your happiest day. :) I love you both very very much and am proud to be your sister.
Love and Turtledoves
Jacqueline